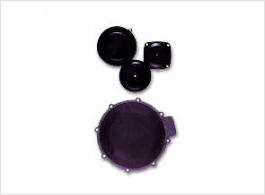 Rubber / PTFE Diaphragm
Diaphragm or diaphragm seal is a membrane that seals or separates an enclosure. Diaphragms are highly flexible. Metal diaphragms of stainless steel, tantanum, titanium are in common use.
Diaphragms Fabric Seals
We manufacture diaphragms fabric seals in synthetic rubber, metal bonded with matching methodology. These find wide application in aerospace, industrial, electronic, agricultural, chemical and medical industries.
Features
 Precious dimensional for on-off pressure gas or fluid controlling.
 Reinforcement heavy duty
 High corrosion resistance.
 Material Used: EPDM, NBR, Silicone & Viton
Application:
Apply as the valve for Open-Close, regulator pressure control for gas or pressured switch instruments and vacuum equipment