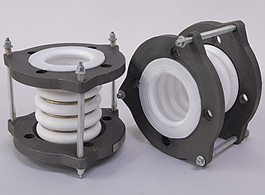 PTFE Bellows
Our PTFE Bellows are manufactured by expert professionals using high quality tested raw material, which is at par with industry standards. Our bellows are corrosion resistant and provide longer service life. Our range is widely used in different chemical plants and other industrial applications.
The PTFE bellows are known for 67.5 mm or as per specifications. We produce these products from high quality PTFE and can be offered in all types of virgin & all filled grades. We can also manufacture PTFE bellow as per Q.V.F. or as per drawing or specifications or sample. ½" dia to 24" dia. The PTFE bellows manufactured by us provide safe passage of pipeline from the main glass equipment and also reduce the transfer of vibration from the rotation equipment connected to the glass assembly.
PTFE Bellows-Serve both for sealing the conveyed media and for acceptance of the valve spindle motion. Such non-stuffing box types with PTFE bellows are used as isolating, metering, servo and conveyance valves. Pumps, agitators, centrifuges, filling and weighing units can be installed in equipment and piping systems of steel, enameled steel,glass and plastic, free from vibrations and shocks due to PTFE bellows. This flexible adapter at the same time ensures the compensation of axial, lateral and angular movements. PTFE bellows are produced by machining of a particularly high-quality Semi finished material - owing to the high requirements in chemical, mechanical and thermal applications.
While the range of PTFE bellows can be used to provide flexible connections in pipework and to protect glass tubes or vessels, or as universal joints, slide units and special sealing mechanisms.
 Covolution: 3, 4, 5
 Working Pressure: upto 4 kg/cm2
 Operation Temperature: -80 ~ 200 ºC
 Operation Pressure: 0.6 - 1.6 MPa
 Diameter: DN 25 - 300 mm