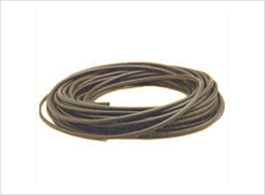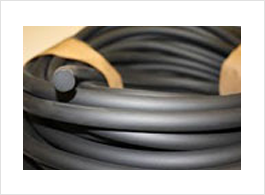 Extruded Rubber Cord
We offer a wide range of extruded rubber cord to meet the specific requirements of our clients. Our supplied cords are available in various shapes, lik e square cord, round cord etc. These are known for exhibiting salient features such as:
Salient Features
 Hgh temperature resistance (-50C to +300C).
 Excellent resistance to oils, fuels, lubricants, and most mineral acids.
 Excellent resistance to corrosive fluids compared to other polymers.
 Excellent resistance atmospheric oxidation, sun and weather.
 Excellent resistance to fungus and mold.
 Extremely low permeability to a broad range of substances.
 Resists many aliphatic and aromatic hydrocarbons.
 Excellent compression set values at high temperatures.
 Resist degradation by over 300 fluids.
 Good electrical properties in low voltage low frequency.
 Retains good mechanical properties at high temperatures.
 Good mechanical strength over repeated flexing.
Application Industries
 Chemical
 Pharmaceutical
 Automobile
 Aeronautical Industries
These are manufactured using varied kinds of raw material such as:
 Nitrile (NBR)
 Hydrogonated Nitrile (HNBR)
 EPDM
 Neoprene
 Silicone
 Fluoroelastomer (FPM)
 Viton (Fluorocarbon)